Inloggen
Als u een account bij ons heeft, meld u dan aan.
Registreren
Door een account aan te maken in deze winkel kunt u het betalingsproces sneller doorlopen, meerdere adressen opslaan, bestellingen bekijken en volgen en meer.
Account aanmaken
What Conscious Means For Us.

"We believe that delivering sustainable products is the future of our economy."
What Conscious Means for Us?
All of our collections are produced with fair labor and we don't do mass or overproduction.
We believe in slow fashion; so our new collections are only being made when goods are sold out. Which means no over-stock which we need to dump, so every single coat gets a happy owner! 
We develop never-out-of-style designs and use

long lasting

durable materials so you'll enjoy your coats for years!
And last but not least, with the additional 
bodywarmer
our coats are wearable in all 4 seasons so so all you need is just 1 coat in your wardrobe! 
(ok maybe 2 or 3 ;-), but as long as 1 of these is a Rain Couture you are completely covered!)
Fair Labour
Each of our coats is made of high-quality & long-lasting fabrics with a superior finishing. To make each style a master piece within the latest collection, we support Fair Labour. We care about the workers and their working conditions of our factory based in Shanghai area in China. 
The production is supervised by our own team to deliver our excellent products to our Amsterdam based Flagship Stores and online shop.
We do NOT apply child labour (not hiring under the age of 18), but we DO hire educated and experienced professionals within their specific field.
The place of production takes care of maintaining an organized, clean and hygienic working environment at all time. All is based on the European standards.
Rain Couture believes that delivering a fair-made coat is far more important than exploiting the workers and enriching ourselves with more profits while offering our consumers the lowest price possible. 
We support, motivate and appreciate all the enthusiastic professionals, who are involved throughout the design process of making these gorgeous all-weather fashion raincoats to come alive.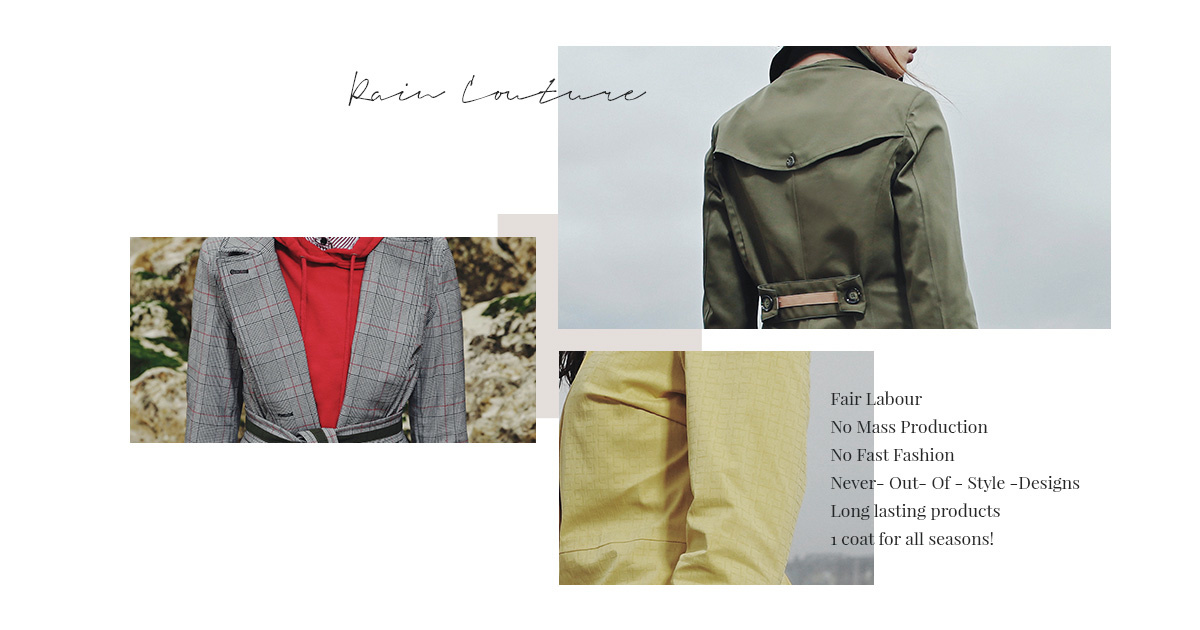 No fast fashion - No mass production
We produce in small quantities, and only re-produce when an item is sold out. So therefore we make sure that every single coat gets a happy owner. We never have over-stock which we need to dump.
We don't aim for collections arriving 6 times a year on a very rapid pace, (which then always needs to be put into SALE because the pace and quantities are just too high).
We provide timeless & unique designs, made in smaller quantities. So every piece is unique; designed and made with lots of love and dedication. You won't see the whole world walking in the same coat. If a one of our never-out-of-style models is sold out, it will be reintroduced: but always with different materials, prints, and details.
Never-out-of-style designs & Durable materials
Each of our coats is made of high-quality & long-lasting fabrics with superior finishing. Our designs are timeless, it will not go out of fashion.
Never out of style designs combined with long lasting durable materials which lasts a lifetime makes sure you'll enjoy your coats for years!
durable designs, which you can enjoy for years.
Multi-functionality & 4 - Season wearability
Our designs don't look like raincoats, they can be worn every day! If it's to work or for casual occasions, because of the looks and the delicate materials, our coats are multi functional!
Besides, with the button-in bodywarmer our coats are wearable in all 4 seasons!
So all you need is just one coat! No need to stuff your wardrobe with all kinds of different coats; 1 Rain Couture is all you need!